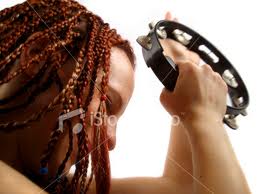 The tambourine is not everyone's instrument of choice. It wasn't great when you were in infant school and it was the only thing you could be trusted to play apart from the triangle. In the Church of England sensitive types come over hot and shivery when a tambourine is spotted in church. Personally I'm a fan but they do take a bit of skill to play well. Think Stevie Nicks in Fleetwood Mack's Go your own way; Davy Jones of The Monkees and of course Linda McCartney. The beat, the rhythm; the frenetic tempo; keeping everyone going with that insistent urgency.
It makes a good victory sound in the hands of Miriam, Moses' sister, as the Israelites emerge from their miraculous Red Sea escape.
Miriam - brother-rescuer; prophet and musician 'took a tambourine in her hand; and all the women went out after her with tambourines and with dancing. And Miriam sang to them:
'Sing to the lord, for he has triumphed gloriously;
horse and rider he has thrown into the sea.' (Exodus 15:20).
It was obviously before believers became worried about coming across all triumphalistic.
It was what freedom sounded like. No more forced labour, religious restriction, assimilation.
It was worship - spontaneous; kinetic; noisy, gutsy.
It was, in all sorts of ways, not really C of E.